Sun Valley Upholstery Cleaning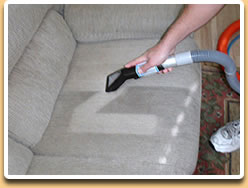 For the finest, local upholstery cleaning, Sun Valley Carpet Cleaning Pros is your best choice! We offer premium quality, affordably priced cleaning for all of your residential or commercial upholstered furniture. Who doesn't love coming home and relaxing on fresh, clean looking and smelling furniture after a long day at the office? Great food tastes even better at your favorite restaurant if you are seated on clean and bright chairs that don't look worn or stained. Even our pets love to flop down on their comfortable, clean beds and relax right along with us. Having clean upholstered furniture looks better, smells better, and lasts longer, too. What better way to protect your furniture investment than to make the pieces you have now, last longer? Sun Valley Carpet Cleaning Pros makes it easy to get your furniture pieces their cleanest since new. Just call us for convenient appointment times, free estimates, and great upholstered furniture cleaning that will have you enjoying your furniture all over again!
Call Now: (818) 962-8685
Q: What is so important about having my upholstered furniture cleaned? Can't I just vacuum it myself?
A: Actually you can and should blot spills and vacuum your furniture. Good housekeeping always helps, but these actions don't get to the ground-in dirt and grime that are inaccessible to you without the proper cleaning tools and methods that professionals use. For best quality upholstery cleaning Sun Valley Carpet Cleaning Pros offers affordable, convenient and very effective methods that can remove stains, grime and even harmful dust mites and allergens.
Q: Your service sound great! So you can professionally clean my couch and loveseat?
A: Yes, and a lot more, too! Sun Valley Carpet Cleaning Pros can clean all of your commercial and residential upholstered furniture including bar stools, throw pillows, futon mattresses, recliners, car seating, breakfast room and dining room chairs, waiting room seating, patio furniture, pet bedding, mattresses, home theater seats, foot stools and lots more!
Call Now: (818) 962-8685
When your upholstered furniture is cleaned by the professionals here at Sun Valley Carpet Cleaning Pros, you get more than just surface cleaning. Our technicians can also remove stains and odor, and apply surface treatment that can quickly repel spills and other items that can suddenly fall or come into contact with your cushions and furniture fabric. Our deep cleaning regimen removes dust mites, pollen, allergens, mildew, bacteria, coffee, ink, blood, juice, urine, dead human skin, pet dander, drywall dust, lipstick, cooking grease, motor oils and dozens of other contaminants that collect over time.
Coming into contact with pollutants like this can lead to health issues like watery eyes, sneezing, rashes, coughing and headaches. People with weakened immune systems like children, elderly, or our pets can be particularly affected. Why take chances? Experience a more healthful and enjoyable home and business environment by having affordable, convenient and always professional upholstery cleaning from the experts here at Sun Valley Carpet Cleaning Pros!
Call Now: (818) 962-8685