Sun Valley Air Duct Cleaning Pro's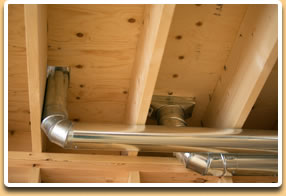 If you are considering air duct cleaning, Sun Valley Carpet Cleaning Pro's should be the company at the top of your list. We offer affordably priced, professionally done cleaning for your residential and commercial HVAC system air ducts. Why breathe dirty, polluted indoor air that can have you itching, sneezing and losing sleep at night? Why pay a higher rate for your utilities because of clogged and poorly working heating and air conditioning systems? Now, it really is possible to eliminate all these issues with periodic air duct cleanings from the real professionals. We offer free estimates, prompt service and helpful answers to all of your questions.
Call Now: (818) 962-8685
Q: Just how can my air ducts get clogged and what is stopping them up?
A: The current national trend is to re-circulate indoor air, over and over again. Homes and businesses alike use double pane windows, extra insulation and tightly shut doors while using their air conditioning and heating units. This near constant blowing of indoor air tends to leave a deposit of tiny particles on the walls and floor of your HVAC system. Over time, this leads to blockage of your air ducts and forces your system to work harder or to burn out completely. Not all of these particulates become embedded in your air ducts; many of them are sent right back into your home or business where you and your family or clients breathe them.
Q: What do these particulates consist of?
A: It varies per location but most consist of pollen, bacteria, drywall dust, dust mites, animal dander, dead human skin, carpet fibers, household chemicals, cooking vapors, motor oils, fiberglass, insulation fibers and allergens. Sometimes even mold spores and mildew are found! Common side effects can include rashes, insomnia, headaches, sneezing, coughing and other flu-like symptoms.
Call Now: (818) 962-8685
Sun Valley Carpet Cleaning Pros offers comprehensive air duct cleaning and inspection services. Our seasoned and fully licensed technicians can quickly tell how
infected or clogged your air ducts are. Treatment is thorough and only state of the art equipment and techniques are used. We first scrape the walls and flooring of your air duct vents using powerful industrial brushes. When the debris is loosened, it is sucked into disposable canisters for immediate and safe removal. If mold is found in our analysis, we treat the linings of your air ducts to prevent future growth.
Q: I want to know more. Can I get a free estimate?
A: Of course! Sun Valley air duct cleanings from our company are the best but we don't charge exorbitant rates. Just call us and get free, no obligation price quotes and all the information you want. Our Sun Valley Carpet Cleaning Pros clients love our service and you will too!
Call Now: (818) 962-8685